Beach Horizon is a systematic fund manager that trades a portfolio of global commodity, financial and foreign exchange markets.
Investment
Philosophy
The key foundation of Beach Horizon's investment philosophy is that financial markets are not efficient and experience persistence in behaviour in the form of price trends.
More
Investment
Methodology
The Beach Horizon programme has a sophisticated and robust model able to capture trending behaviour whilst continually managing risk. The model is the result of many years of research...
More
Research
Research and model development is fundamental to our approach. The research team has over 50 years combined research and development expertise in the managed futures industry.
More
Portfolio
Interest rates
Bonds
Currrencies
Stocks
Commodities
More about us
Performance figures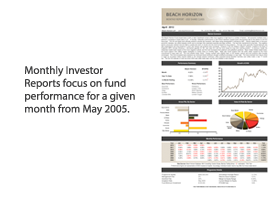 More about us
Awards